Safe & Vault
Harvey's Lock & Security understands that life happens. Home safes offer protection and peace of mind in a world of hyper-information sharing. Every week the media alerts us to ongoing theft, natural disasters, and accidents, creating anxiety over personal security. Commercial and home safes continue to be an affordable and proven solution to ease concern and protect valuable data, records, electronics, and money.
At Harvey's we believe in trusting what you can see, feel, and know. Don't take fire and security ratings, sales pitches or manufacturer's brochures at face value. Make us show you the difference between a safe and a great safe! Best of all, a new safe doesn't mean an outrageous price tag.
The experts at Harvey's know safes are like cars – you don't want a Yugo and you may not need a Ferrari. Let us help you find what you do need.
---
Harvey's features only the best quality, industry-recognized brands in commercial and home safes, like AMSEC Safes and Phoenix Safe International.
AMSEC Safes
An American security product manufacturer, AMSEC Safes has been meeting security needs for nearly 70 years. AMSEC's extensive product line, with over 400 safe models, thrives as the largest safe manufacturer. With such a large product line, you're sure to find a safe that suits your needs.
Spanning the full range of insurance classifications and standards, AMSEC Safes promises to meet your unique needs with specialized features from burglary to fire resistance for guaranteed security. AMSEC even has a product line tailored to specific industry requirements for various business including banks, restaurants, supermarkets, and convenience stores.
How does AMSEC Safes do it? AMSEC engineers use advanced CAD systems to make design modifications and produce precise manufacturing blue prints. With state-of-the-art, computer-controlled manufacturing equipment AMSEC Safes maintains the leading edge in technology.
Fort Knox Vaults

As a family owned company, Fort Knox Vaults recognizes the importance of maintaining strict standards when safety and security is involved. There are no second chances. Confident in their unique product line, every inch of every vault is backed with a Fort Knox Vaults lifetime warranty.
Fort Knox Vaults offers customizable fire protection and security features in standard vault sizing to meet your specific needs.
Using a combination of traditional thick plate steel and 21st century technology, Fort Knox Vaults employs exclusive security attributes – the Fortress Fold and Triple Re-Locker System. The Fortress Fold utilizes layers of fire board and solid steel plating inside the door with triple steel coverage on the edge typically most pried. The Fort Knox Vaults Triple Re-Locker System features a triad of internal locking systems triggered when the vault is "attacked".
Phoenix Safe International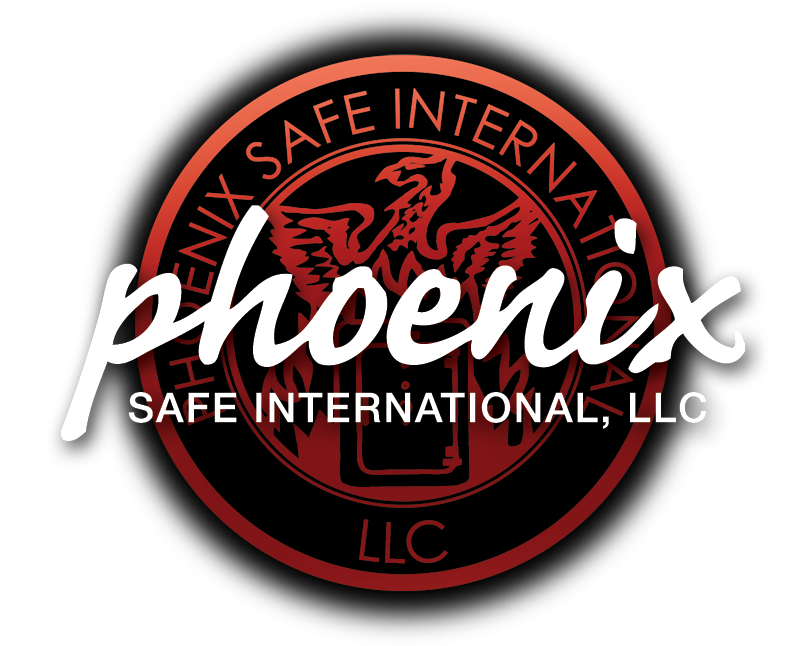 Originally known as Richmond Manufacturing, Phoenix Safe International has offered security and protection since the 18th century. Covering the market for files and safes, Phoenix rigorously tests their products accounting for fire, water, theft, and physical impact.
Phoenix safe and file designs cater to most residential and business aesthetics and decor with a variety of available sizes, styles, finishes and colors.
Every Phoenix safe model is thoroughly and independently tested to meet European and American fire protection industry standards. How do you know our safes are safe? Certification labels from testing agencies guarantee safety standards and specify the product's fire protection level.
Blue Dot Safes
Blue Dot specializes in commercial safes, challenging traditional practices to produce superior security. A newer company, Blue Dot Safes uses modern technology and innovative engineering catered to commercial use safes.
From the number one seller, Depository safe, that accepts cash and comes in a variety of sizes, styles, and lock options, to the High Security safe, designed to protect high value items like jewelry and collectibles, Blue Dot's safe models anticipate the needs of the business owner. They even produce a line of Smart Safes that automatically counts money received and detects counterfeit currency!